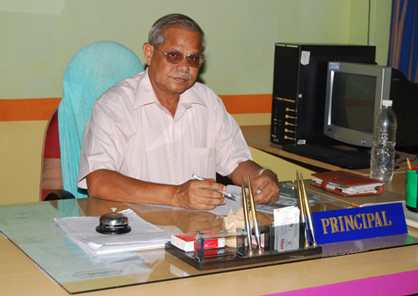 "ER. LALITENDU SAHU" ! " PRINCIPAL"
Dear Parent / Student,
In pursuing a career moving beyond the traditional education system. Now a days, we are living in a Global Village. Nations are coming together to form associations and groups. The information and communication technologies are changing fast and changing the education scene so rapidly that the geographical location of students, teachers and teaching Institutions are almost becoming the global center of knowledge power in future, where human resource are

abundant but appropriate human resource development system is inadequate. Our mission is to create professionals with knowledge and skill who have a distinct vision to lead and succeed to create a space for India in the global context.Our motto is to produce energetic,effective and efficient professionals by providing high quality, career oriented education in a learning friendly atmosphere. The Sri Polytechnic,Komand,Nayagarh was established in the year 2008 approved by AICTE,New Delhi. The Institute is recognized by Government of Orissa and is affiliated to SCTE & VT.

"ER. LALITENDU SAHU" ! " PRINCIPAL""